SUMMER VIBRATION : the first names
We are pleased to announce the first artists who will perform on the various stages of the SUMMER VIBRATION FESTIVAL on July 20, 21, 22, 23, 2023 in Sélestat (Alsace / Grand-Est)! More than fifty of them will gather from all over the world on 2 stages plus OFF-stages. Reggae, Hip-Hop, Dub and Electro concerts are on the menu. Here's a first wave:
ALPHA BLONDY – NAÂMAN – HILIGHT TRIBE – ASIAN DUB FOUNDATION – BROTHER CULTURE – MANUDIGITAL – YOUTHSTAR X MISCELLANEOUS – RYON – FLOX – RAAVNI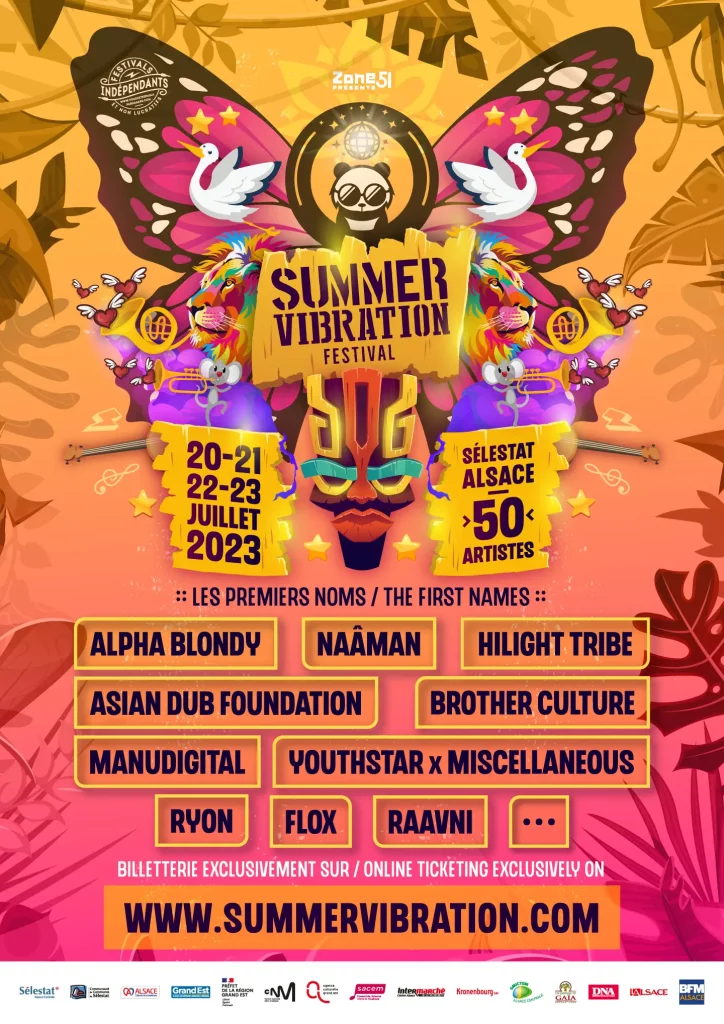 The lineup starts strong with the first headliner:
Alpha Blondy
, the icon of African reggae, with a 40-year career, who will celebrate his 70th birthday during his tour in 2023. Following the postponement of his last tour,
Naâman
holds its promise and wishes to return to the SUMMER VIBRATION. His audience is impatient to hear him once again pose his groovy and melodious flow. He will come to scatter on the festival-goers his positivity and his solar temperament. It is followed by the pioneers
Hilight Tribe
. They have been the Ambassadors of the peoples of the world since the 1990s by surfing the wave of Natural Trance. Their next album promises a sound exploration at the heart of a cultural richness: desert music, blues, salsa, sounds of Mandingo. Defending a unique alternative sound mixing Jungle, Dub Bass, Rock and Rap with militant and fiery messages, the
Asian Dub Foundation
collective will break down style barriers. Boom! A return to the roots of Reggae with the MC
Brother Culture
(Brixton original Rasta since 1982!). Then a breath of fresh air with the electronic sounds of the beatmaker and digital Reggae specialist:
Manudigital
. Then to shake the coconut trees we will welcome
Youthstar x Miscellaneous
. A formation with the official frontman MC of the Chinese Man and the rapper of Chill Bump. On the program: Hip-hop, Boom Bap and Bass Music. Then let's introduce
FLOX
with his old style rhythms, almost Techno-ish, vintage Dub scents and futuristic escapes, thick sound bushes and melodies scraped to the bone!
expected musical discoveries
And as we like to reveal the artistic
"coups de coeur"
of the programmer, here is a first sample of rising stars, fully up to make an impression and defend their new sounds! So get ready for
RYON,
the new Francophone Reggae voice, with several million listenings and more than 230 dates everywhere in France and in Europe. And then
RAAVNI
, promising some powerful music where the "vibration de la Terre" infused in an Electro Dub style close to tribal Trance. A music conducive to dance and inner journey!