Oh oh oh ! Let's go for the traditional X-MAS – ELECTRO DUB PARTY!
During December,
ZONE51
and the
SUMMER VIBRATION
festival invite the
AFTRWRK PROD
agency. From the Auvergne-Rhône-Alpes region and everywhere in France, they specialize in the management of Dub-oriented artists. From this meeting was born the evening
X-MAS – ELECTRO DUB PARTY
. Thus, on Friday, December 16, an avalanche of bass and infra-bass will sweep over the complex of
Tanzmatten
in Sélestat.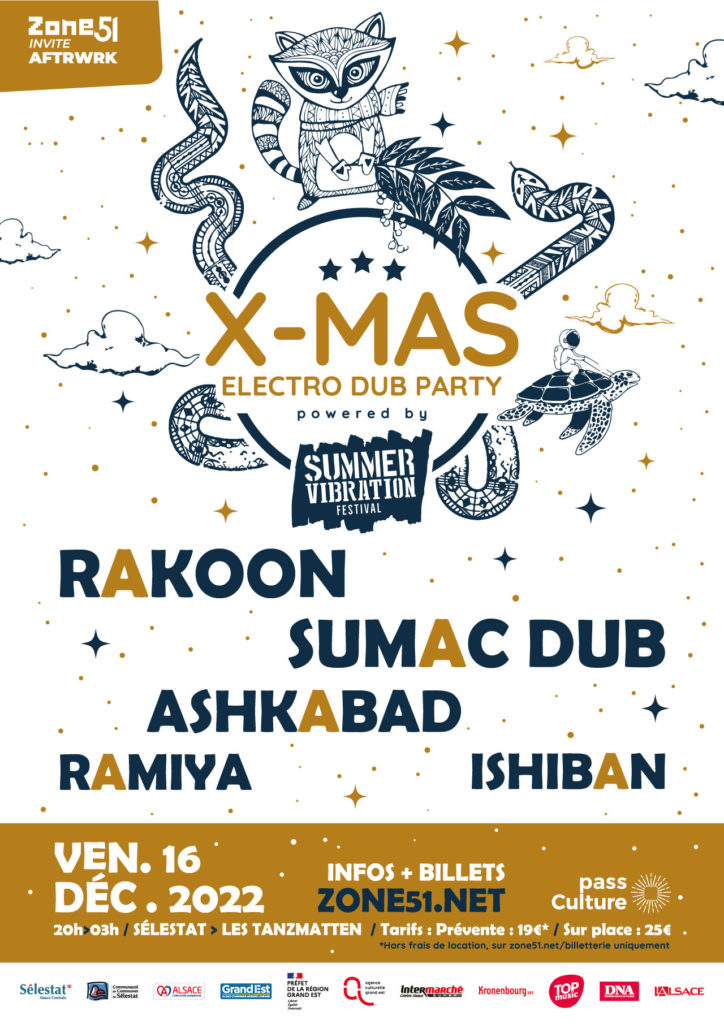 ON THE PROGRAM, THE CREAM OF THE FRENCH SCENE
RAKOON:
a free spirit known for his powerful bass which he shares with undisguised pleasure in concert. Since his first hit
"Healing Dub"
, which has more than 10 million views on YouTube, the producer continues his quest for an ever more hybrid and unique sound, combining synths and samples from travels on pop structures with electronic accents. He will come this year to present his new album entitled
"Something Precious"
.
ASHKABAD:
a machinist keen on frenzied rhythms and a singer with melodies as furious as they are neat. The Avignon duo created the band in 2010 with a common desire for a dub without barriers, drawing their inspiration from Jamaican roots, French and UK dub, the Bass Music movement or the Sound System culture. With a certain musical maturity, many concerts across Europe and after having shared the stage with the big names of the dub scene, they land in Sélestat to present their powerful sound and always open to experimentation.
SUMAC DUB:
violinist by training and compulsive traveler, Sumac Dub has found in music a way to create unknown worlds that he explores without limit. Rich in multiple musical influences and largely influenced by the current electro dub scene, Sumac gives birth to a dub in which harmony and power come together brilliantly. It is live, always accompanied by his violin, that the artist comes to inscribe his identity in a real fusion of raw energy and mystical delicacy. Chills guaranteed!
ISHIBAN:
he carries powerful music combining hypnotic dub rhythms and modern and industrial sounds. Ishiban is in perpetual search for innovations and musical or sensory transmissions. And it is live that his work takes on its full meaning. It delivers a powerful stepper live dub for sound adventurers!
RAMIYA:
in search of the soundtrack from the depths of his psyche, he offers an auditory experience with very textural industrial sounds. It is both electronic and organic, dark but also sometimes tinged with light. Live, he invites you to experience a unique journey, constantly pushing the limits of his creations.
Ready for the electro dub rendezvous that will melt the ice and fill you up with good vibes just before the holiday celebrations?
TAKE OFF: FRIDAY DECEMBER 16 – 8 PM > 3 AM – TANZMATTEN – SÉLESTAT